Groups
hitose is not in any groups
Interests
anime, cosplay, game's, traffic, adult-content =P
Goodbye to the cube - www.youcubez.com
May 23rd 2012 at 10:00 PM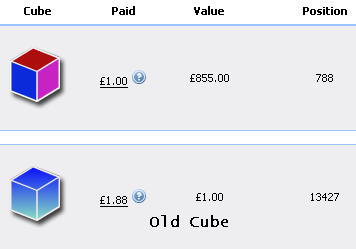 This is a cube that has a lot of time on my account, at first it was difficult to obtain credit when it was used as the basis for other cubes due to the large time since taking up a cube, dedicating 4 hours per day achieved a pocision extra day this cube has more than a year so its value is not the same, plus all their credits were tranasferidos to another cube so that I can only sell it.
Youcubez is good business still very slow in many stressful moments but something that is true without a paid account I can earn a lot, has no limitation in addition to all traffic back to your site which can be a good choice for advertising on your site.
You can try registering with the following link:
http://www.you-cubez.com/?referer=87899
-Spanish-
Este es un cubo que tiene mucho tiempo en mi cuenta, al principio cuando era difícil obtener creditos lo usaba como base para otros cubos debido al gran tiempo que tomaba subir de puesto un cubo, dedicandole 4 horas diarias lograba una pocision extra al día; Este cubo tiene más de un año así que su valor no es el mismo, además todos sus creditos fueron tranasferidos a otro cubo así que no me queda más que vender lo.
Youcubez es un buen negocio aun que muy lento, en muchos momentos estresante pero algo que es verdad sin una cuenta de paga sé puede ganar mucho, no tiene una limitante además todo lo regresa en trafico para tu sitio lo que puede ser una buena opción para la publicidad de tu sitio.
Tu lo puedes probar inscribiendote en el siguiente link:
http://www.you-cubez.com/?referer=87899