Groups
hitose is not in any groups
Interests
anime, cosplay, game's, traffic, adult-content =P
ESET NOD32 and blocking domains co.cc
Mar 20th 2012 at 11:11 AM
Some time ago started a campaign ESET discover malware andtrojans and a great source of these are illegal download sites that are potentially hazardous to our computer and there I spread a lot ofvirus, we run the risk that our will be infected or have a keylogger on your computer without realizing it, since August 2011 began astrong campaign ESET discover fake site banking companies andrecognized companies.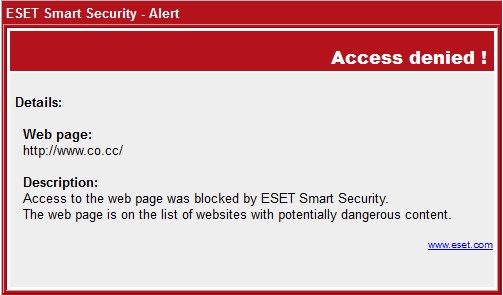 The host and domain as well.

Unfortunately many free domains and host were involved in nothaving any such order or law to regulate its content and preventfraud, identity theft and the spread of spyware, malware or virus,because of this little host free with DNS accept structures were blocked by ESET to be highly dangerous, and CO.CC free domains and the like have been blocked at the base of NOD32virus definition in all
its versions blocking the content of these sites.
For many, just as I use a free domain host or that there is no budget to pay this one happens to be an attempt to discover nostros, few companies that offer such services without advertising in betweenor some hidden charge, any term of the contract inespicable among other things that usually happen with a free service.
A domain host and recommend what?