Groups
canadapravenue is not in any groups
What is the Good IELTS Score for Canada Immigration?
Jul 18th 2019 at 6:05 AM
International English Language Testing System, popularly known as IELTS is an internationally acknowledged test for English language proficiency. Most Canadian, Australian, British, South African and New Zealand academic institutions, companies and government institutions accept IELTS as a standardized measure to test an applicant's English language ability. Moreover, it is a key requirement for Canada immigration, New Zealand immigration and Australian immigration.
It is considered as a leading testing system, which employs international English standards to its examinations. Examinees are tested on the basis of 4 key areas, namely:
Listening: It contains 40 questions and 30 minutes of completion time and an extra 10 minutes time for transference.
Reading: It contains 40 questions with 60 minutes of completion time.
Writing: It contains 2 tasks and with 60 minutes of completion time.
Speaking: It contains 3 parts with 11 to 14 minutes of completion time.
Refer the table below to understand about the score rating system that is followed by Comprehensive Ranking System:
The IELTS scores vary from 1 to 9 in terms of CLB band and it is required to score minimum 6 band score in every section for the purpose of qualification.
Here is a table that shows British Council's descriptions of all the bands:
What should be an ideal IELTS score to apply for a Canadian PR visa in 2019?
IELTS examination is considered as one of the key factors while calculating an applicant's overall CRS score for a Canada PR visa. Ideally a candidate must score a CLB 10 or more to score maximum points in language proficiency section falling under the CRS calculator.
Also Read: IELTS Preparation Online For Canada Immigration
However, if a candidate scores well in other factors like age, work experience, adaptability and educational qualification, then he/she can also qualify with a CLB 7 score in their first language. It would also prove quite useful to learn English or French as a second language and score additional CLB 5 points and improve the overall CRS score.
The table drawn below can provide you a better understanding about the IELTS points system: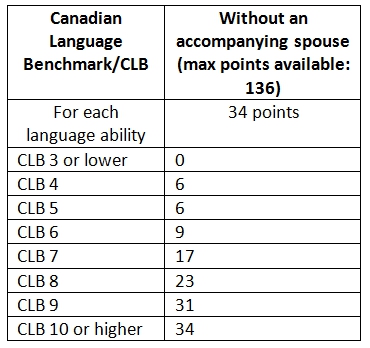 Additionally, the IELTS exam has 2 categories, first is general and the second is academic. If you are applying under Express Entry system, then you must choose general scores in the IELTS segment.
Though, in Canada, the requirements for IELTS scores and the overall average IELTS score majorly depends on the type of visa you are applying for. For instance, on the Canadian government's website, you will find different requirements under the skilled worker visa. Thus, it is always advisable to use a CRS score calculator tool to convert IELTS scores for Canadian immigration requirements.