Groups
pratapsingh is not in any groups
Interests
Travel and networking.
Pratap Singh

| pratapsingh
Five amazing places in delhi for backpackers
Oct 27th 2015 at 12:46 AM
Delhi, the capital city of India offers a number of great places to visit. Delhi stands as the museum of this country. From the royal ages of Mughal Empire to British government every chapter of Indian history unfolds its story in this city.
It is one of such great historical place that still enriched with its glory. Tourists come to visit the city in order to witness its monuments, forts and other superb attractions.
There are a number of places that you should definitely visit in Delhi. While you are in this city then you should also try some Mughal cuisines. Here is a list of top five places of Delhi that you should definitely visit.
This post is shared by Mr Piyush Sharma from Hotel GTC, a popular accommodation option in Greater Kailash, South Delhi.
Red Fort:
The red fort is popularly known as Lal Qila gives the most iconic view of ancient architecture. This fort was built much before British invaded India and from that time it reflects its glory.
It always makes us proud and reminds us of the glorious time of our country. It is one of the oldest monuments of India so it always enjoys a grand respect from Indians as it has national importance.
Many people come to watch the flag hosting ceremony on the Independence Day. Inside this fort you will get a big market that sells different things for the tourists.
The wall of red sandstones, magical architecture will definitely evolve a sense of pride into your mind for this country.
India Gate:
There are some important things in India that make the country proud of her sons. And India Gate is one of them. This is not an ordinary gate but has a great importance in India's history.
Whenever, Indian look at this gate then they can feel the emotion and sentiment around this gate. It was made to give a salute to all those soldiers who had died in the World War 1 for fighting against British army.
This is a huge gate and you can find the names of more than 13 thousand soldiers on the wall of it.
And India gate is also an amazing place for couples in Delhi. I know it as many our hotel guest are couples and as per then India gate is an amazing place in Delhi.
Qutub Minar:
If you are an Indian then you must be heard stories of Qutub Minar. It is one of the tallest buildings of India that looks amazing from the ground. The building reflects the architecture of that time and also the rich heritage of India. It is one of the best tourist spots in Delhi.
Lotus temple:
This is an incredible site that you should not miss in Delhi. Being the most attractive place of Delhi, this temple is always ready to charm the tourists. It is also the biggest temple of Bahai community. The temple exactly looks like a lotus flower. People from different community or religion come to visit this temple for prayer.
Akshardham temple: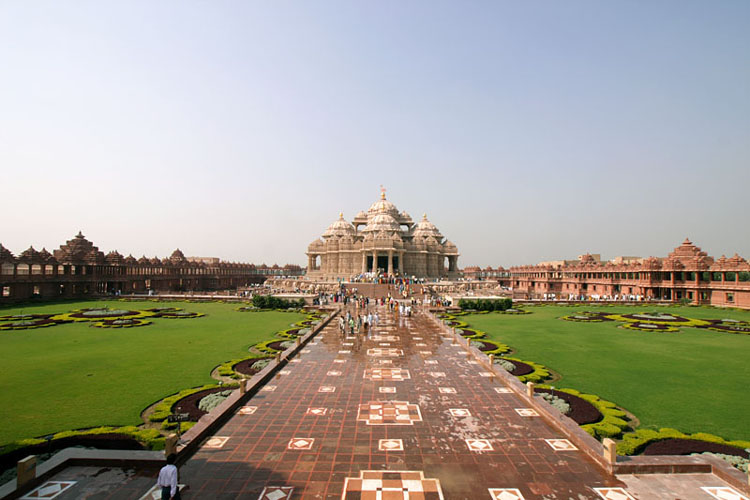 Another most beautiful temple of this city is Akshardham temple. It looks amazing, the decoration and the architecture will spellbound you. You should definitely visit this temple in Delhi to witness its beauty. so pack your bad and come to this amazing city of India.