Groups
Urbanosaurus is not in any groups
Interests
Ivan Dimitrijevic has his focus on blogging as well as social media marketing. writes on a variety of other topics including home improvement tips and online business. He is married, with a 4 years old daughter and he enjoys sport, entertaining, and spending time with family.
Ivan Dimitrijevic

| Urbanosaurus
A Touring Biker's Thoughts on Motorcycle Riding and Safety
Dec 3rd 2014 at 1:14 AM
Bikes have been around for well-over a century now, used in wars, all kinds of jobs and just as a fun way to travel. They have always been associated with adventure and freedom. Pizza deliverymen ride them, the cops ride them - hell, there are even motorcycle paramedic units in hospitals around the world. So why do people feel so uneasy around them and are quick to point out the dangers of bike riding? Well, Hollywood is partly to blame for promoting the image of the tough and reckless biker, but not even biker gangs give motorcycles as much of a bad name as all the careless idiots you see out in the streets do. You know that kind – they want be fast and cool, but barely know what they are doing and have nothing but jeans, a jacket and a pair of sunglasses to break their fall.
Riding a touring bike across the country is an incredible experience, and you can learn a lot from your travels, but people you meet can get a bit preachy. They hear about these kids going way too fast and losing control, or even experienced riders who get mowed down by a truck through no fault of their own, and they feel the need to confront me with this information. I'm here to tell you that a motorcycle road trip can be a very safe and fun experience if you know what you are doing, drive safely and dress for the occasion.
Be careful when buying your first bike
It is best to go for less powerful, and less expensive bikes when first starting out. They are much more manageable and you don't have to worry too much when you eventually scratch them up or take a tumble. Used bikes in the 150cc to 250cc range are your best bet, but be sure carefully inspect the bike before you buy it. You can go online and use sites like VinFreeCheck to get a quick vehicle history report by entering the VIN number. This allows you to make a good informed decision. Make sure that you have at least a year of regular riding under your belt before heading on a cross country adventure.
You need to be more responsible and aware than the average car driver
Think of it this way, you are a bunch of meat, fat and bone sitting on top of a metal engine and balancing on two wheels. If something goes wrong, there's a good chance that you will come down with a severe case of road rash. There should be absolutely no drinking when riding and you should be mindful of your surroundings. Car drivers have a nasty habit ignoring bikers in traffic, so you will need to be careful and sharp on your reflexes. A little bit of common sense and patience goes a long way.
You need to get some experience riding shorter distances and at slower speeds when starting out
When you are first starting out, make sure you get a less powerful bike. Even if you are into cruisers, start off with a lighter model. Try to get the feel of it and learn how to effectively control the bike on short trips to town and back home. Drive on less crowded roads and keep your speed down. Doing 60mph on a smaller and lighter bike can feel like your blasting through at over 100mph, so you don't need to go that fast to get a thrill with a less powerful model. you need to invest in some good safety gear
In your first year or so of driving, you are likely to fall at least once or twice – it's almost a statistical certainty. If you are careful, these will be minor falls, but if you don't have the right gear, you may have to give up riding for a couple of weeks while healing up. Leather jackets you can find at the mall and regular leather gloves simply won't cut it. You need clothing that was specifically designed for bikers. This type of clothing will be made of tougher materials, with protective padding in the right places. If you have a limited budget, then go for a less expensive bike and invest more money into a high quality helmet and good motorcycle clothes.
You need to take care of your bike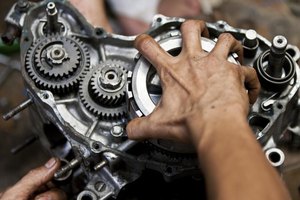 Regular motorcycle maintenance is an important factor of safety. You need to make sure the bike is running smoothly, that it is tucked away for the winter and the batteries stored correctly, that the tires and oil are changed regularly and so on. If you've parked in a certain place for a long while, especially if it is in a rural area, make sure to thoroughly check the bike and the helmet for insects and spiders – you don't want a bee sting while you're doing 80mph on the highway.
While it is true that motorcycles are inherently less safe than cars, that doesn't mean that they are an accident waiting to happen. I've been a bike fan my whole life and riding daily for the past five years, and besides a few minor scrapes and a twisted ankle, most of which I got when I was younger and less experienced, I have been fine so far. My wife supports me, and often rides with me on long road trips, and I hope to teach my daughter about the joys of riding and how to do it safely and responsibly when she is a bit older.