Groups
coulawrence is not in any groups
Use Us To Build Your Solavei Business
Dec 29th 2013 at 6:51 AM
Use Us To Build Your Solavei Business

Lots Of Details Below. Use This Page As Your Guide To Come Back To.
The person on the right is using this site to build his/her Solavei business at no cost - just a little time. To get a replicated
site of your own with your information on the right, simply go to the top and Register. It is free. Once registered you will 
receive information on how to set up your site. If there is no information in the profile, contact us and we'll track them
down for you.
As of today 6-24-2013, we are now offering commissions on our BLU phones. Update 12/1/2013. All devices now pay commissions.
Click here to view. to find out the details.

Today is 6/2/2013. Solavei opened its doors to take on new cell service customers 9/21/2012. As of today, over 200,000 people
have switched their cell service and Solavei has paid their members (us) over $10 MILLION in referral commissions. This is just the
tip of the iceberg, as there are over 300 MILLION cell phones in use in the USA alone. Solavei is going global in the future.
Update 12/1/2013. Solavei now has in excess of 300,000 members, and now offers 4 different cell service plans, starting at just $29 per month for unlimited voice and text. 

OK - so it is understood that the market is prime for a cell service that is cheaper than most and that actually pays you for
referring people. 

How our system works is that even though Solavei is all fine and great, people are not searching for Solavei. People are searching
for higher end cell phones; that is the market we approach. So you advertise cell phones and when people answer/reply you can
send them information on where to get the phones - with no credit check and not much money down. Of course you will want to
answer them with your introduction to Solavei. 

So it is simple. You run ads in Craigslist, Backpage and any of the dozens of sites that allow free listings. You advertise the 
phones with something like ----"Galaxy S III - or Galaxy Note II, low down payment of $X - no credit check." Now put 
something like this in the body of the ad:"Galaxy S III - $55 dollars down -- Note II $65 -- iPhone 5 $69 - delivered -- Phones
financed over 90 days same as cash or 12 months lease to own. No Credit Check -- You need the same job for 6 months and 
90 day bank account to get approved. Reply for more details. Tell us which phone you want (the above are examples), so we
can get you to the right supplier."

Sample ads below:
http://chicago.craigslist.org/chc/mod/4222994568.html
http://tampa.craigslist.org/pnl/mod/4066794783.html

Advertise popular searched for phones such as the iPhone 5, Galaxy S III and the Galaxy Note and Note II. When people respond
wanting more information and which phone they prefer, send them to your replicated website.
You want to send them to your replicated website, and include your Solavei contact information in your profile -which just
makes sense - use your replicated site found in your back office after you log on. Be sure to update your back office profile.
I am sure it goes without saying that you also need to send them solid information about Solaveiand how to get signed up under you.
Here are some "Intro To Solavei" options:

http://vimeopro.com/solaveitv/solavei-great-service-great-price-great-opportunity/video/50030781
http://www.youtube.com/watch?v=Sfv25XPWsbM
the information they requested, even if it is for a Sprint or Verizon account as our first job is to offer service. But at the same time
open their minds a bit to saving money on their wireless bill as well. Explain - AFTER - you send them to the phone supplier(s) -
i.e. what they requested - (don't come across as a bait and switch poster - Craigslist volunteers will kill your ads) that getting a 
great deal on a phone is only part of the issue. How would they like a higher quality cell service at less money per month? How 
about free? How about the wireless provider make the phone lease payments? 
Come here for updates, and tell us which of your ads are working.
Spend one day every week or two placing ads. Does not take all that long. Place at least one ad for each phone. Place them 
in large cities to get the most looks at your ad. You can spend as much time, or as little as you want. 

Remember you need to go after the largest audience. At this moment that is those looking for higher end cell phones. We have
found that advertising the phones gets a much better "hit rate" than just advertising for a lower cell bill or a money making deal. 

We will be putting sample ads in your back office as time goes by. Be sure to look in your back office at the Marketing 
Tools/Text Links you will be updated as we go along.
Click below for more ideas on Craigslist
Whatever you do in marketing, you need a steady stream of people interested in the prepaid cell market. That is what we teach 
you how to do. They will be responding to you. Learn what you can to get them not only the phone information - which is what 
they are inquiring about - but send them information about Solavei. 

It has been asked if we pay commissions on the phones. We have polled many of you and every person said they would rather us
have cheaper pricing in the hopes of getting more people enrolled in Solavei. As in - a $30-$50 commission is not worth losing 
7 bucks per month - for years into the future.
Hint - after registering, go to your back office and change your Account Details - change your Profile and add your Solavei
contact information.

Use the "Contact" tab above to ask any questions.

The more people that see this site, the better chance of you getting a new member on your Solavei team.
Note 7-22-13. We are having more and more people tell us how this site is helping them grow their team. That is what it was
designed to do from the beginning. 

Click here to download marketing tools

..................

My name is Michelle Pearce. My role in this is twofold; We are in the cell phone business and I also am 
building my Solavei business. If you are like me, when I first saw the Solavei plan when my friend Jeff
told me about it, all I saw was MLM - network marketing - and I said - no way. However, I took a closer
look and it just makes sense. Nearly everyone has a cell phone. How many of them would like to get 
cheaper cell service? How many of them would even like to get free cell service? And now, how many 
would not only like to save money on their cell service, but also at hundreds of retailers where they are
already shopping. Stores like Walmart, Lowes, Home Depot, and so many more....


So there is obviously a market. It is not like we are selling and stocking overpriced soap or coffee and 
the only reason people do it is to make money. Solavei offers real value on products everyone is already
using. Today it is cell service. In June, 2013 it expands to Home Depot, Walgreens, Walmart, Publix, 
and many, many other retailers.


Long term on the income side it also just makes sense. If you build your Solavei team by sharing how
to save money on cell service and other retail purchases, the income just keeps growing and growing. 
Think of your car or home insurance agent. If you have known them a long time, when they first started 
they lived in an apartment and drove a used car. Twenty years later, after building up their customer
base, they live in the best part of town - in a large home - and drive the best car.


They are set for life because of what they built. When they retire,their income must drop, because the 
new agent will now be servicing their customers. If you take a few years and slowly build your Solavei
business, you too can be set for life, but when you retire, your income does not decrease; in fact it will 
probably keep increasing, and you can pass it on to your kids.


Folks, this can, and will turn into a big deal. There are 300 million cell phone accounts just in the USA. 
Solavei is next going into Canada and Europe. Take a bit of time each week and grow your business. 
Just run some ads like we teach and answer the replies honestly. That is all it takes. No meetings, no 
begging friends and family, no inventory to stock. On top of all that, you are providing a great service to
people. One that can change not only what they pay for cell service and some retail purchases with our
free discount club starting in June 2013, but one that can change their financial life - and even their
children's financial life. 


Yes - it is that good. 


Now make the decision to get out of the rut you are in. It does not take special skills or selling 
anything. Just help people - the more you help them realize their dreams, the closer you get to
making your dream come true. 


Michelle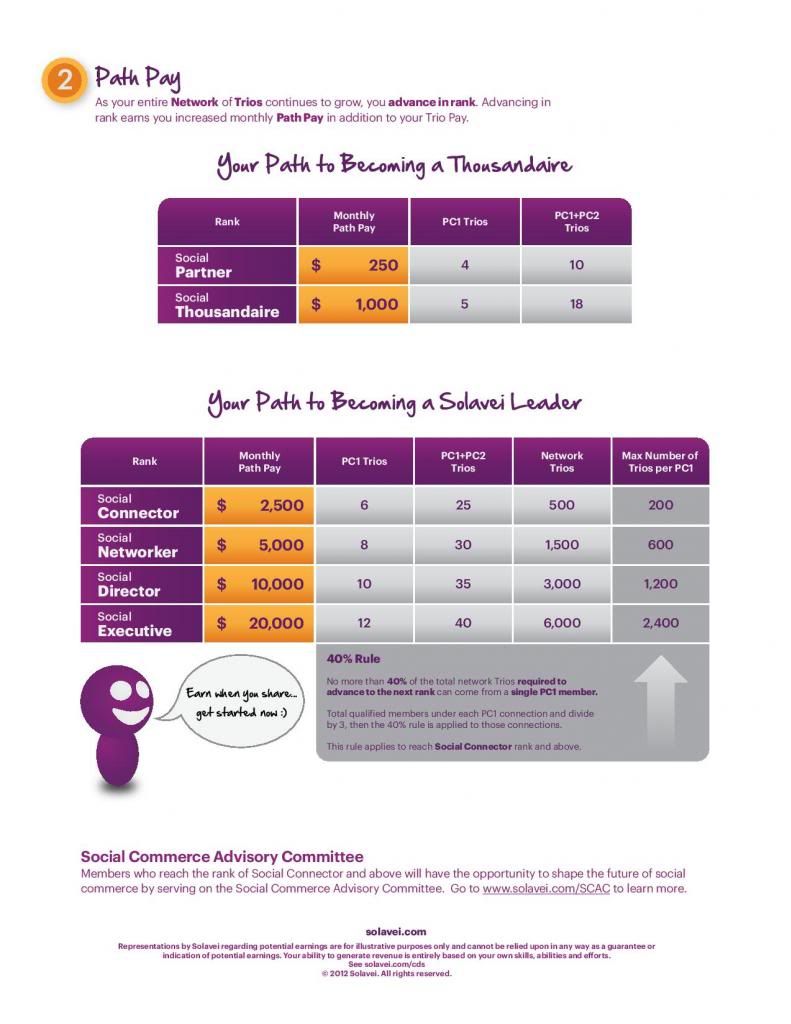 There are close to 300,000,000 wireless cell accounts in the USA. Solavei is opening in other 
world continents soon.

What part of those accounts are you going to get paid on?
Courtney Lawrence