Groups
· PET LOVERS

Interests
female wrestling videos, catfights, professional wrestling, boxing, and vintage wrestling.
Steel Kittens Wrestling

| SKWrestling
WATCH UNLIMITED WRESTLING VIDEOS
http://store.steelkittens.com/membership/membership.asp

3 months ago
Two Sexy Topless Babes Beat Each Other into Submission!
Jan 19th 2013 at 2:08 AM


Check out our latest wrestling releases here now! Online Specials | Premium Membership | Highlight Videos | Our Wrestlers | Wrestling Clips
Enjoy today's featured wrestling matches below: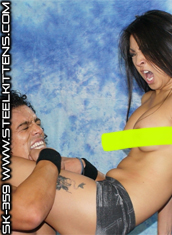 "Ring Thunder Series: Mixed Wrestling"
Kaos vs. Nicole O.
VIP vs. Ray
Mixed Wrestling fans, you are you in for a treat! There is truly nothing worse than a woman's scorn! Nicole goes totally ballistic on Kaos, who is much larger and doesn't want to hurt his beautiful girl friend. He tries to calm her but there is no stopping this topless enraged woman! Watching this little beauty of a woman tear up this big guy both verbally and physically is something to behold! This mixed wrestling match will defiantly have you on the edge of your seat, no telling what this unpredictable topless woman is capable of! You have to see this!
Next, we introduce VIP a Southern California beauty, with the best legs in the business. You'll love watching VIP gain experience and use her beautiful legs in tight head and body scissors squeezing the air out of her male opponent! Two super mixed wrestling matches by Steel Kittens!
Watch this mixed wrestling match here now!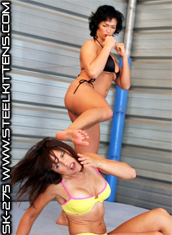 "Bottoms Up"
Frankie vs. Onyx
The incredibly beautiful Frankie is challenged by Onyx. "I'll knock you out cold!" but Frankie thinks Onyx is too small to be tough, and reminds Onyx that after she knocks her out cold she is going to tie her wrists and ankles, with her bottom up! Great wrestling, punching, kicking, lift and carry, bondage, and domination action. Great tie-ups and beautiful butts over shoulders displayed. Shot with great close ups and super action.
Watch this female wrestling match here now!
"Vintage 50's, 60's & 70's"
1. Sandy Partlow (Yellow Suit) vs Wendy Burke 2. Laura Del Rio (Long Hair) vs Panama Framco (Mud Wrestling) 3. War Star vs Jackie West (Larger Girl) (Mud Match) 4. Casey Carr, vs Lynn Black (Blonde) 5. Jackie West & Sharon Lee (Blonde) vs Two unknown Japs (Shot in Hawaii) 6. Lena Blair (In Red) vs Nancy Tudor (Shot in Hawaii) 7. Pattie Steger vs Lena Blair (Blonde) 8. Princess Perla Nieto vs Bill Hawks (Mixed) 9. Sonia Sanchez vs Elain Kay (Halter Top) 10. Roselyn Royce vs Jean Velez (Mixed)

Mildered Burke or "Millie", was busy from the middle 60s through the 70s, and was the sole producer of 8mm films using professional girls in her own ring and mud wrestling. She imported girls from Japan, England, and Mexico and even matched them several times in Hawaiian rings. This digitalized tape of 8mm film transfers has no sound but lots of hot action featuring Jackie West, Roselyn Royce, Lynn Black, Casey Carr, Wendy Burke and a host of other talented wrestlers, shot in a deep mud wrestling pit or in Millies Ring, which is now owned and operated by Steel Kittens. Here is a great look at classic professional women's wrestling! Enjoy!
Watch this vintage wrestling match here now!
"Cold Shot"
Vanessa vs. Dreah
Sassy Stephanie vs. Jessie Belle Smothers
These eastern pro style wrestling women decide to put on the gloves and discover just how hard boxing can be. First we have two blondes, Vanessa and Dreah, with Vanessa being the heavy. As they feel each other out, Vanessa soon gets the upper hand and delivers pounding stomach punches and stinging face shots to Dreah. They rally back and forth and soon it's Dreah getting in her shots to Vanessa. With kidney punches, belly punching and face shots. Both girls get knock downs, and the ending in the final round, one fighter delivers a devastating uppercut right on the button of her opponent and she is flat out, KO'd on the mat, ending her for the day. Next we have Sassy Stephanie, a sexy red head going toe to toe with Jesse Belle Smothers, a feisty blonde. These women are new to boxing but not the fight game. These spirited amateur boxing women exchange belly punches and head punches. One boxer is forced in the corner for an assault of punches. She recovers and comes back with an assault of her own. You'll be surprised at the ending of this one and one boxer is taken by surprise. She takes a blow to the head and falls to the floor, unable to continue.
Watch this women's boxing match here now!
"Flipin Dough"
Goldie vs. Darling
These sexy roommates have attitude and food fight breaks out! What a mess. They soon challenge each other to the ring and both are tossed from pillar to post. Their tops soon fall off and heavenly bodies are flipped and smashed into submission. You'll love this spirited non-stop sexy female wrestling fight!
Watch this t*pless amateur wrestling match here now!


Custom Matches: Super Discounts!!! We have a Great Line up of Talent, and are offering Super Low prices on custom wrestling matches! If you were hoping to see your favorite girls or new talent, now is your opportunity to sponsor a match with your favorite wrestling babe! Email us your outlines now at note@steelkittens.com! Time is limited!
Please let us know if there is anything we can do to better serve you! Steel Kittens | 1334 E. Chandler Blvd. #5 Box A-19 | Phoenix, AZ 85048 | Ph: 805.499.6707 | Fax: 805.499.5564 | www.SteelKittens.com | note@steelkittens.com
All images on SteelKittens.com are copyrighted materials.
© 1993-2013 Steel Kittens, all rights reserved