Groups
Greenassets is not in any groups
Interests
Environment
Climate Change
Water Sustainability
Energy
Biodiversity
Environmental Stewardship
Green Industry
Social Enterprise & Impact Investing
Development
Education and Sustainable Agriculture
Greenassets.in

| Greenassets
Top 5 Solar Chargers on sale NOW by Greenassets.in
Jul 12th 2015 at 1:01 AM
Times have changed for sure ! Not long ago, when nature lovers headed in to the wild they carried a map and a compass for navigation, and in case of an emergency, they had matches and maybe a flare. Nowadays, many won't leave the comfort of there house without a GPS, smartphone, and a digital camera.
These gadgets have their benefits and applications, but only as long as they have power. Relying solely on a GPS with limited battery life to get you back to camp is a dangerous proposition. Running out of battery on your phone or camera is also not much fun when you are away from some of your loved ones, unreachable and unable to capture a magical moment while on a trip outdoors. Enter the portable solar charger and you no longer need to worry about the dreaded 'Battery Low' indicator on your devices.
As solar technology has continued to improve, both products and prices have been shrinking. Manufacturers today are producing affordable, portable solar-power units so small and lightweight, you might even forget you are carrying them !
We feature five of the smallest solar chargers each costing less than Rs2,500 providing eco friendly power for the modern Nature lover while exploring the great outdoors.
The Waaree WEPCWS300 Solar Power Bank will charge your phone through USB and it can charges using the energy from the Sun ! It takes only 3 hrs of charging via USB and only 8 hrs of sunlight to completly charge itself. So what are you waiting for ? Place an order NOW !
MRP= INR1,999 OUR PRICE= INR900.
Stand Out Qualities of the Product:
USB and Solar Charging
Premium Rubber Finish
LED Status Indicator
LED Torch Capacity= 2000 mAh
WARRANTY:
6 months Warranty against manufacturing defects only.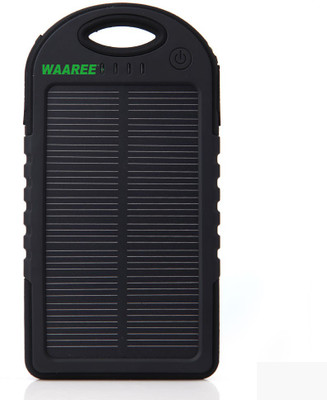 Ever needed your battery bank to be as rugged as you ? Presenting the Waaree solar water and dust resistant battery bank. This 5000 mAh battery bank is your phone's perfect companion for a weekend trip outside the city. It also comes with a single-led torch. Shockproof and drop resistance, this solar battery gets its elegant looks from its premium rubber finish. Made with environmentally friendly silica gel and abs plastic material.
MRP= INR 3,599 OUR PRICE= INR 2,499
Stand Out Qualities of the Product:
Water Resistant Dust Resistant
Premium Rubber finish
LED Status Indicator
Capacity= 5000 mAh
Warranty:
6 months Warranty against manufacturing defects only.
The Ravin SC-025 Solar charger is a smart and eco-friendly solution for phones, tablets and mp3 players. It is an ideal companion for vacations, regular indoor charging and in areas with irregular power supply. With this solar charger you won't be bothered about a drained battery anywhere under the sun. Order your own solar charger and give your gadget the power of the sun today.
Get 10% of on the Ravin SC-025 2500 mAh with FREE HOME DELIVERY!!
MRP= INR1,500 OUR PRICE= 1,300
Stand Out Qualities of th Product:
2500 mAh Battery capacity
5V power supply
Li ion battery
Solar charging and USB charging
warranty:
1 year warranty against manufacturing defects only.
This is a multi purpose charger with different adaptable connectors for MP4, digital camera, and IPAD and mobile phones etc. it has two power suppliers: solar power and lithium battery, charming looks and variety of colors to choose from, A good travel companion to satisfy your timely charging need.
MRP= INR949 + INR60 (DELIVERY CHARGES).
Stand Out Qualities of The Product:
Satisfy your need of charging anywhere anytime when there is sunlight
1800mAh lithium battery
Solar charging
Different adaptable connector for phone, IPAD, MP4, MP3, digital camera etc.
The Opteka BP-SC4000 Ultra-Thin Solar Powered Mobile Device Charger allows you to charge your mobile devices when a wall outlet or USB power source are not available. The BP-SC4000 contains a 4000mAh lithium-polymer power bank which charges up via a solar energy or computer USB port, and features 10 mobile-device connecting tips, extension cable and USB port making the BP-SC4000 compatible with most Nokia, Samsung, LG, Palm, Blackberry, Apple iPhone, iPod, iPad, Motorola, Sony, Bluetooth, GPS, various digital cameras, PSP, various eBooks, tablets, Nintendo DS, Kindle, and other devices.
MRP=INR2,200
Stand out Qualities of the Product:
Charge your mobile devices using Solar or USB power
Ultra high capacity 4000mAh
built-in lithium-polymer battery
Includes 10 charging tips with USB port to maximize compatibility LED power capacity display
Voltage: Output DC 5V 1000mA, Max Solar charge: 2500mA