Groups
oliverafaucets is not in any groups
The division of faucet function
Jul 1st 2015 at 7:31 PM
Faucet can match with the bathroom products, and also can used alone. The products which can match with the faucet is shower room, bathtub, bathroom basin.
Bathtub faucets
It is for side spray installation and suit for hot and cold water. The most common bathtub faucet in the market is single handle bathtub faucet with ceramic valve. This product used single handle to control the water temperature for convenient using, and the ceramic valve is durable and will not leak. The faucet body of bathtub faucets is mainly used brass casting and has several methods of finish such as chrome, rose gold and different painting. This faucet has two outlet, one under faucet is for bathtub, the other is for shower. Pay attention to the spout length should be a little longer than the bathtub edge in order to make sure the water will not flow out.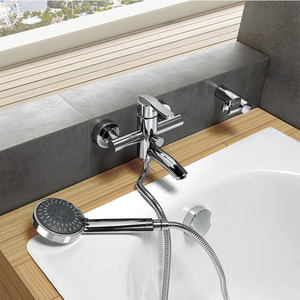 Shower faucets
Shower faucet with outlet at the bottom is suit for matching with the shower and shower pipe, while the other with outlet at the top is for control the body and top shower.
Bathroom sink faucets
It is for bathroom sink mounted installation and suit for cold water only, hot water only, cold and hot water mixed. The faucet body is made of refined brass and has chrome, rose gold and painting finish, with different style and different handle, such as two handles style and single handle style. Some bathroom sink faucet has a pulling drowning stick which can open the outlet directly to discharge the sewage. This faucet is designer for matching with bathroom basin, and suit for washing clothes and face, so the spout is short and low, but it has enough washing space for people.
Kitchen faucets
If your kitchen has a hose for hot water, this kitchen faucet must be center set installation. For example, some kitchen faucet has higher spout with lengthening design and pullout spray design for convenient washing. And it also need a lengthening spout which is better to stretch to the outlet and it better not splash.