Groups
IMHOMEBIZCOACH is not in any groups
IMHOMEBIZCOACH
Wow! Thanks for the following everybody. I recognize many of you from other forums. I would complain about being so busy but I love it. I know that many of you are doing great things. keep on me 2

unknown
Merry Christmas Gift of 10 A Day The Sweeva Way!
Dec 21st 2011 at 11:00 PM
Hi IMfaceplateFriends,
The 1st article that I posted Oct 2nd 2010 was about the HotSpotMailer & Sweeva to the Rescue Synergy blog. In that blog I shared many of the strategies for success that I still use today.  I have detailed in the 12 days before Christmas articles a number of marketing tools that have led me to become a credit multi-millionaire.  I use these tools everyday ans have mastered the secret techniques to maximise the results with minimal effort, otherwise I would not be able to do all that I do.
In this article I will focus on Sweeva and the 10 a Day Plan.
Here's how it works: Browse only 10 pages every day, and your bonus increases daily.. NO LIMIT
My Daily Bonus:  1420  Do Not....I mean DO NOT miss a day because when you do you start over at 10...I have been up to 2 or 3 thousand and missed.  Trust me that is an aweful feeling.  But id does not take long and you are back up again.  It is fun and it does not take long to do 10 pages.  You can do more.  I have done as many as 250.  Some peeople do more.

Be sure to check it out and experience what Sweeva calls 'social browsing'. You surf with hundreds of other members, you get to rate sites as they appear and you can network with like minded individuals.

Ooops, I almost forgot you get rewarded from rating sites, viewing sites and commenting on sites. This is the easiest way to promote any site you have ever wanted too...


Enjoy it!

Ken Wolff

P.S. Oh ya, when you sign up be sure to check out the jaw dropping 'read me' file they have when you first log in. Believe me, you won't want to miss the important information about your brand new Sweeva account...
//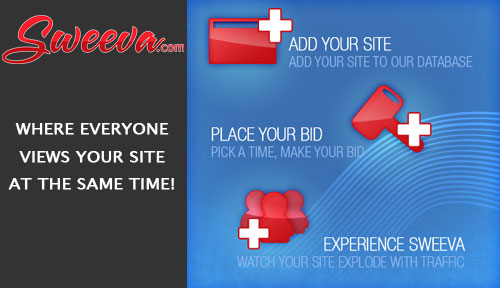 Congratulations! You've ranked up.. How far can you rank up? You're back at level 1 so you can rank up again!
Alert:
10000 credits for only $18.97!
Get some today!