─► Open Your Own Fully Stocked Online Store Instantly (blog post) ─►
http://affiliatepowercentral.com/home-business/open-your-own-fully-stocked-online-store-instantly/

2 years ago
How to Build a Residual Income Business
Nov 12th 2012 at 6:10 PM
GT Bulmer © Home Business Resources
How clear is your plan to build a residual income business? Is it a well-defined plan with a specific timeline, specific income goals and specific daily and weekly activities designed to move you incrementally towards your targets?

Or is your plan like so many others where you are simply hoping that something you do catches someone's attention somewhere, sometime, and that you will maybe make a few dollars here and there?

If that's your plan, rest assured that you are not alone. For some reason – maybe it is human nature – that is the plan that many aspiring Internet Marketers and wannabe entrepreneurs seem to be following - or "chasing", to be more accurate.

On the other hand, if you are ready for a change, if you are willing to get serious about making money online, if you think you are ready to settle down, focus your efforts and build a real foundation for real Internet income, then let me give you some tips on how to build a residual income business online.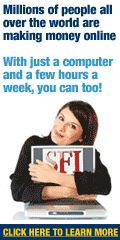 First of all, you have to make residual income your goal.

If you are going to sell products, services and programs that pay one-time commissions for each sale, then you are going to have to learn to be quite an effective salesperson to make any long-term money doing that. Are you ready for that challenge?

Instead, you must find and follow a plan that allows for the kind of residual income that continues after you create a foundation for it to happen. Don't get distracted by other plans that don't fit the bill. Make residual income your goal and find a suitable plan that clearly allows for residual compensation based in some way on sales volume.

Second, a solid residual income plan must include product sales to the consumer. Purchasing those products or services yourself should be an option, not a requirement. I do recommend that you support your chosen affiliate company by buying the products it provides, but only if the products have value and purpose to you. You should never be obligated to make purchases.

Finding a suitable line of products to promote can be a challenge, but if you can align yourself with an established e-commerce shopping site that already has a strong product base, then you will increase your chances to create a firm foundation for residual income.

Third, Team-Building and Group Sales Volume.

Again, if you are a talented and confident salesperson, you might be able to go it alone, but most marketers will benefit from the power of the team. A good, solid marketing plan will reward you for team-building and will pay you additional benefits based on group sales volume.

I have found team-building on the Internet to be easier and more effective than the old way offline with traditional network marketing. You can reach more people online, faster, and with a wider range of training and marketing resources at your disposal.

Through the power of the team, you expand your marketing reach and thus your Internet income potential. It all comes down to sponsoring and duplication: you learn the steps necessary to produce the amount of monthly income you want, and you train your team members to duplicate those steps. As long as you follow the plan, the results will follow.

Once the proper foundation has been built, your team will continue to grow and prosper and you will earn the kind of passive income online you have been dreaming about.

That is how to build an effective residual income business: Consumer sales, Team Building and Group Volume rewards. Find an affiliate company designed especially for this, focus on building your foundation with that company, assemble and train your team, and you will be set for life.