Groups
daviddadson is not in any groups
Interests
I'm a global marketing and social media expert, I've been connecting people and products through technology. I've 5 year track record in marketing analysis and strategy.
How Hardness Tester Beneficial for Industries?
May 29th 2015 at 3:07 AM
Hardness testing has become quite valuable for industries, particularly when compared to tensile strength testing of traditional types, since hardness testers' offer more accurate results in a relatively non-destructive method. These tests don't leave a permanent mark on the sample and the can be correlated to the yield strength or ultimate tensile strength of the product. Hardness measurement is used extensively and provides several benefits such as measurement of ultimate tensile strength, wide application to different industries, higher accuracy due to small size of the impression produced and conversion from one hardness number to the other. At the same time, it can be used for both hard and soft materials, which gives these testers a benefit.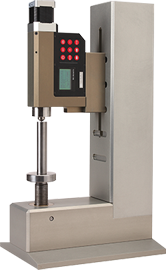 What makes highly accurate and versatile hardness testers so beneficial for industries is the fact that they are more useful and leave lesser margin for wastage. For instance, different, compact or non-compact hardness system have suitability for quality control. At the same time, these tests leave on tiny indentations, which makes it easier to get an increased degree of accuracy, while providing information about the load carrying ability and the results of heat treatment on the metal.
Hardness testing has other benefits as well. For instance, they can help in saving a lot of space. Rockwell hardness testers in particular are quite compact. Therefore, they can be used for a variety of purposes without taking up much space, without wastage and while ensuring accurate results. This helps industries fabricate a structure or a piece of mechanical equipment based on their requirements reliable and valid results ensure that the industries can easily predict how the material is going to hold up in different temperatures and under different loading conditions. It also provides information whether hard metals can work in lower temperatures or if they will get brittle or crack and rupture. All these advantages make it important that companies invest on good hardness testing materials.
Currently, one of the most popular hardness testing system is the Rockwell Hardness tests, which offer information about dimensionless hardness number, defined by the depth of penetration. This also ensures that the hardness testing machines indicate a readout number, without requiring any kind of post-analysis.
The second popular and most common type is Brinell hardness, which has units of stress, kilograms of force and squared millimetres of area. While the hardness value is not a true stress, it does provide post-analysis accuracy. The test involves the use of a steel ball, with a diameter of 10mm, the indentation of which is measured using optical comparator. It can be used for both soft and hard materials. But the major disadvantage of this system, in comparison to Rockwell Hardness is the fact that the test can leave a large indenter and a mark on the sample.
Overall, hardness testing gives industries quite an edge, ensuring that their metal objects are up to the industry standards.