Steel Kittens Wrestling

| SKWrestling
Super Vixens, Wild Wrestling Women, Mixed Fights! #wrestlingwomen #mixedfights #supervixens #wrestlingvideos
http://p0.vresp.com/B747u9

7 days ago
Gee, This Babe is Not an Angel... She is out for Blood!
Nov 6th 2013 at 11:36 AM

Hey Wrestling Fan, We have a couple of great featured female wrestling matches to share today. Be sure to check out our membership offers and our promo code that can save you money on your favorite wrestling purchases!

ProAm, Mixed Wrestling , Cat Fights , Pro fights , Amateur, Female Domination , Topless Wrestling , Nude fights , Fantasy Matches and Pro Vintage Full Length Matches, Highlights and plenty of sexy wrestling clips you can't find any where else!
So what do you get?
Update weekly goodies
And of course 1000's of 1000's of Action packed photos!
1000's of Talent Pictures!
100's of Photo Downloads and More!
You'll love having your very own private account where you can save all your "Favorite" photos and links!
Sit Back and Relax and Take a
Free Tour Here
!
We have a great line up of New Talent coming your way! Let us know if your interested in sponsoring a match or having a custom made! Now's the time, so get ready! Email Dianne at note@steelkittens.com

First off, we have dozens of wrestling clips and videos
on sale here
!
Here is the Current Promo Coupon Code...
RocinRaslin1113
Enter this code at checkout to save up to $10
Get $5 off purchase over $35.
Get $10 off purchase over $99.

Here are today's favorite featured wrestling matches:
*
Producers Pick of the Day!
*
Foot Fetish Domination!
*
Topless Mixed Wrestling!
*
Women's Wrestling – T*pless Competitive Pro Am and Female Domination Wrestling
*
2 Topless Amateur Female Wrestling Matches
*
Mixed Wrestling Domination!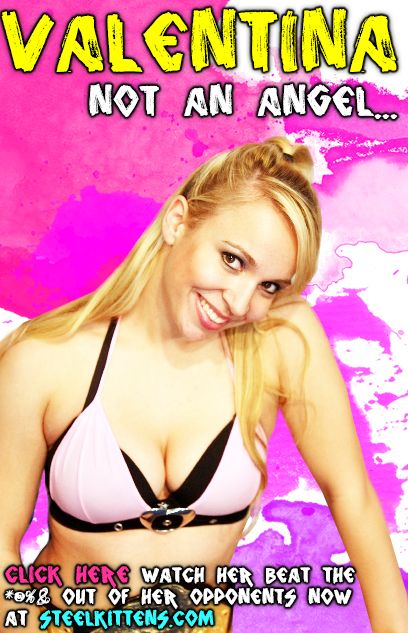 Steel Kittens Wrestling would like to invite you to give a testimonial about us. We are always looking for ways to improve our customers experience and hearing from you is very important to Steel Kittens. We highly value your comments and input. Please reply to us a note@steelkittens.com. Testimonials will be reviewed and replied back to you with a
Special Gift
from Steel Kittens you sure to enjoy!
Interested in a Private Session or a Custom Match? Lots of New Talent! Email Dianne at note@steelkittens.com
Please let us know if there is anything we can do to better serve you!
Thank you!
The Wrestling Women of Steel Kittens.