Groups
martinezian is not in any groups
Interests
fashion trends
Fashion: Join the tribe
Nov 1st 2015 at 9:57 PM
Always one step ahead, stylish local couple Dane Winter and Emma Bidois have just launched their own shoe brand La Tribe.
The couple, who both grew up in the Mount, are now based in Auckland with their cranking business distributing the super popular Havaianas jandals around New Zealand.
Their new brand consists of four sandal designs with plans to launch a larger range of winter boots, pointed flats and loafers next season.
Rodelle Payne caught up with Emma.
How did the brand originate?
We started designing shoes because it's largely in our blood. Dane's dad started the first surf store in Mount Maunganui in the late 70s - Island Style. His dad used to make leather sandals out the back and sell them in the store, and Dane was pretty much brought up in the store.
'La' is from my French heritage and 'Tribe' is about family, friends and people that mean something to you.
We work with a lot of my friends and family, we know this doesn't work for everyone but we wouldn't have it any other way.
What is the label's aesthetic?
Very relaxed - a balance between fun and function. We wanted to create shoes which weren't too serious looking. La Tribe aren't meant to live in their shoebox waiting for a special occasion. They should be thrashed and worn, comfy and reliable.
What do the designs mean to you?
It's important to me that our designs live in the everyday world and the design works for people's lifestyles. If we can't style them with outfits we want to wear them with, or can't think where we want to go in them, they don't make the cut.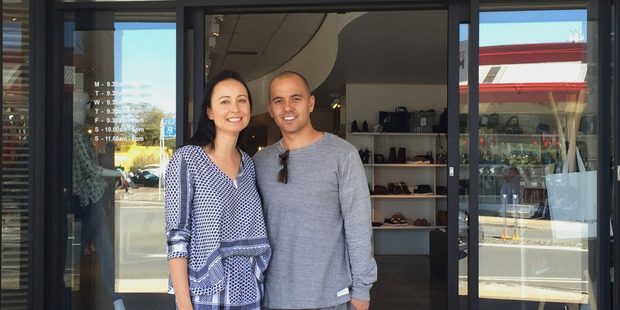 IMAGE vintage inspired bridesmaid dresses
How do you test your designs?
My friends live busy and varied lives so I will often give them the samples to test. For example, if I imagine a friend on the school run in some of my designs, I will give her the sample for the actual school run and get her feedback. If I have a friend who wants to dance all night, I will give her the sample to test out.
I like designing details that actually work. Shoes are expensive and the functionality of the details should serve a purpose. Eg, the actual back pip on a boot is large enough to help pull them on or there's no extra zip added for no reason. Some of my designs, I've worn for four months testing and perfecting before they are ready for my customers. And, of course, they look sexy and you feel good in them.
When you aren't designing beautiful clothes, what do you do?
Anything that involves my friends and family - laughing, having fun, eating and travelling.
Describe your own personal style
Relaxed. I'm lucky that I can get away with this at work. Jeans of every style make up a big part of my wardrobe.
What is your favourite place in the world ?
Aitutaki Island in Rarotonga. No internet, no phone reception. Fresh coconuts.
What is your daily source of inspiration?
Travel! I love going to different countries and sitting in a local coffee shop watching people on the street.
Bloggers - they're living fashion in their daily grind - so you know if they're enjoying styling certain trends and styles.
What is on you playlist?
Everything! I love all types of music. A lot depends on my mood. Courtney Barnett, Pharrell Williams, Unknown Mortal Orchestra.
Who are your dream dinner party guests?
Anyone who is positive and has a good sense of humour can come to our house. We're planning a dinner party with our neighbours who we recently meet at a Jimmy Choo event. Small world. Our cats are best friends and I had been meaning to pop over and say hi and hadn't got round to it. It turns out him and his wife are the architects who are responsible for transforming Britomart in Auckland.
READ MORE blush pink bridesmaid dresses