Groups
graciedyer is not in any groups
Interests
shopping, reading
Fashion: A colourful winter wonderland
Jul 20th 2015 at 12:44 AM
As a nation we love black, but take a bold step into some prints to brighten up your winter wardrobe.
Start with this spectacular ensemble from Gorman, which has collaborated with Australian artist Miranda Skoczek to create prints established from five of her original artworks. This whole look illustrates the beauty of clashing yet complementary prints to perfection.
Animal prints are my favourite neutral and are always a timeless addition to your wardrobe. Ruby's Romy Skater dress is a great day-to-day basic with long sleeves and a flattering flared skirt and Moochi's Intent dress is a fabulously feminine wrap-front dress with a flirty layered skirt, which is currently on my to-buy list.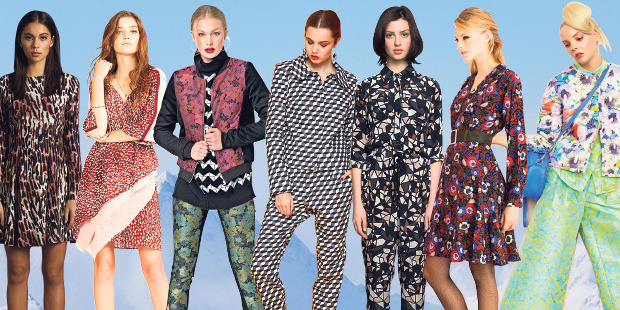 Winter florals are always moody, with so much depth to them just like in Carlson's Yorkshire dress, with its nipped-in waist and blouson sleeve. And in this Andrea Moore look, both the jacket and the trouser are made from the same print but are different colourways, then broken up with a contrasting graphic knit.
Finally, I have a couple of graphic-based prints to add some geometry to your world; from Juliette Hogan a shirt and trouser combination in her bespoke New York Nights silk print. Then WORLD's bold monochrome cubism print, which was the embryo for their winter collection, in a matching jacket and tailored trouser.
Complete your look with a little ear candy as seen in The Line Up this week. Kingsway creates simple minimalist jewellery by Erica Lyons, a Kiwi based in Australia who nods to her homeland with these lovely mini kina earrings. From Jasmin Sparrow, an local ethnically produced jewellery line, are Patti earrings, which are long bars that can be worn sitting along the ear or hanging down. Something a little feminine and floral from New Zealand's own rock 'n' roll jewellery king, Nick Von K and then some badass gold hoops from Nina Gordon's Flash Jewellery. And finally some large zigzag hoops from Tauranga-based Nat Peri and her Wilderwolf label.