Groups
· Learn How To Make Money Online
· WebsiteTester
· Article Writers Unite
· Favourite Motivational and Inspirational Quotes
· Smoke Green
· New Inventions Ideas and Inspiring Tools

Interests
I like Music, The Net, , Reading ,Theatre, Sports, Travelling, Financial Rewards, Movies ,Television, Health Supplements and Surfing .The Theatre is cool and so is reading the New York Times watching The World Series and the Stanley Cup Final. I\\\\\\\\\\\\\\\'m Canadian after all and we love our game.Politcs is okay and so is the Royal Family Of Britain. G-d save the Queen.Peace, Friendship ,Goodwill, Good Fortune and Prosperity to everyone.
Healthsmart
Len Kochberg[Healthsmart]

| Healthsmart
Wow I have been a member here for less then a week and I have already made money. Sign up free here
http://QLxchange.com/Healthsmart
then upgrade at One X [ $5.00 only once] You'll make your money

unknown
A Look at Flying [Part 1]
Sep 22nd 2010 at 9:59 AM

Hi Healthsmart Here
Ever wondered about the evolution of the bird. Here's a fact. Birds are really the survivors of the Dinosaur.If you meet some one who says that all dinosaurs were wiped out one day because of a meteor strike on our planet you may tell them that is a lie. Dinosaurs live. They are now called birds. In fact Birds DNA is from the Dinosaur themselves. Strange but True
So you are asking "How come I mentioned that"
Well I was looking into some history facts about Human beings taking to the skies to be like birds and conquer flying.
Here's what I found
Here's a small history of Flying Machines. I will take you through 4 parts Easy reading and fun. Enjoy!
I'm sure you never knew about the flying bike
Hold on tight, it's going to be a wild ride!
Flying Bike
Let's face it, traffic is getting worse all over. Slow moving freeways feel like narrow parking lots and commutes are getting long and longer. But wait, there is a solution... be the first on your block to own your very own Flying Bike! Take to the airways and bypass all of those clogged roads and jammed expressways by pedaling your way to flying freedom. This low slung, slow-speed machine features what looks like a child's giant car seat (buckle up!) and a big fan mounted aft. Lift is provided by a huge gas inflatable wing that gently pulls you into the atmosphere with the mere force of forward motion. And when you get tired of pedaling, the inventor actually suggests you could mount a rocket on this mean machine for some fierce propulsion. Hold on tight, it's going to be a wild ride!

Flying Bike
Real Patently Absurd Inventions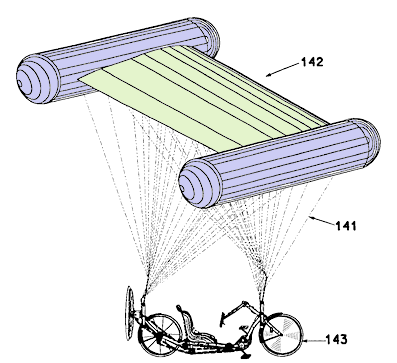 The Flying Car
Buckminster Fuller might best be known for the molecules named after him and dome designs that inspired structures such as the Epcot center. But even more impressive is The New Yorker's rundown of Fuller's life and forgotten inventions, such as his three-wheeled, all-terrain car with a periscope, cities designed to float in the clouds or bathrooms designed like refrigerators. Here are a few of my favorite "Bucky" facts from the article:


After nearly going bankrupt in 1927, Buckminster Fuller moved his family to a Chicago slum so he could spend his days in the library reading works from the likes of Gandhi and Da Vinci. By 1928, he had compiled 2,000 pages of notes into a 50 page manuscript entitled "4D Time Lock." It was basically described as incomprehensible nonsense. From here, Fuller began work on his Dymaxion line of inventions focused around utopian living.
The Dymaxion Car, built in 1933, was blimp shaped, sat on three wheels and had a periscope instead of a rear window. Fuller had a vision that the evolution of housing would lead to pre-fabricated homes that could be put anywhere, so people would be living in places like Antarctica or the Sahara, and would need an all-terrain vehicle to get around. The car could turn 180 degrees on a dime, and would often cause traffic jams from slack-jawed onlookers. Future designs for the car called for it to fly using a VTOL mechanism, but a fluke accident at the Chicago World's Fair killed production of the vehicle in 1934.

The Airplane
Orville Wright and Wilbur Wright - Inventors of the First Engined Airplane
Orville Wright (1871-1948) and Wilbur Wright (1867-1912) requested a patent application for a "flying machine" nine months before their successful flight in December 1903, which Orville Wright recorded in his diary. As part of the Wright Brothers' systematic practice of photographing every prototype and test of their various flying machines, they had persuaded an attendant from a nearby lifesaving station to snap Orville Wright in full flight. The craft soared to an altitude of 10 feet, traveled 120 feet, and landed 12 seconds after takeoff. After making two longer flights that day, Orville and Wilbur Wright sent this telegram to their father, instructing him to "inform press."

Flying Bike
Real Patently Absurd Inventions
This last tidbit is worth looking at It is hilarious as well as very interesting even if you are not a bird
More of the most amazing ideas that have ever been invented for the purpose of flying
These Flying Machines will rock your socks off.
Warning you must have a google account to view all the pictures
Ever wondered what is behind the engineering of The Airplane that you are boarding Have a look at the History of Some flying Machines
Images For Flying Machines
http://www.google.ca/images?q=Flying+Inventions&rls=com.microsoft:en-us:IE-SearchBox&oe=UTF-8&rlz=1I7ADBF_en&redir_esc=&um=1&ie=UTF-8&source=univ&ei=ZRqaTLX4OMe-nAe3j72oDw&sa=X&oi=image_result_group&ct=title&resnum=1&ved=0CCcQsAQwAA&biw=1003&bih=546