Groups
agnusalexander122 is not in any groups
Interests
Health Research
Agnus Alexander

| agnusalexander122
Test-Driving the Gladiator Rock'N Run: Mud Run Mania
Jan 2nd 2014 at 10:06 PM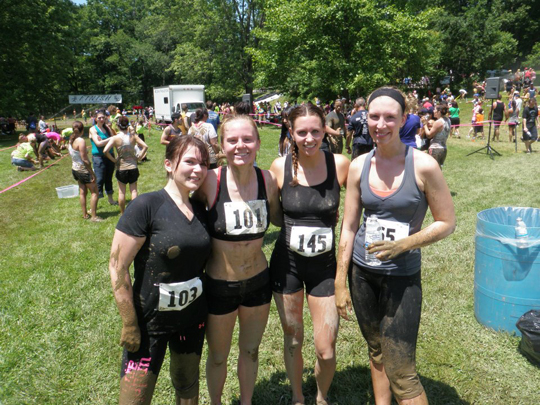 Just two weeks after running the Warrior Dash, my mud run buddy Diana and I took on the Gladiator Rock'N Run, another 5K mud run loaded with obstacles.

The San Diego Gladiator Rock'N Run took place on April 14, 2012 on the Barona Indian Reservation in East County San Diego. Read on for my experience at the race, how it differed from the Warrior Dash, and how my affections toward obstacle races have changed.
What is the Gladiator Rock'N Run?

The Gladiator Rock'N Run is a series of obstacle races that vary in length from 5K to 10K. The series was created by Dan Clark, who fans of the original "American Gladiators" game show will probably remember better as Nitro.

This particular mud run was a 5K that took place at a motorcross park and had 18 obstacles. New ones to me included: storming through a castle facade's windows, carrying 40-pound bags of rice 40 yards, a waist-deep polar bear plunge that forced us to duck underneath horizontal pipes, cargo nets to climb, and plenty of mud to slither through. http://www.chiliving.com/forum/viewthread/13311/

(C) Diana Weishar
All mud run participants got a finisher's medal, a commemorative T-shirt by Affliction and a voucher for a free Karl Strauss beer (!) from the beer garden. Three bands performed throughout the day, and there was an array of food trucks and swag tents dispensing Lara Bars, Monster energy drinks and Motorola goodies. The Marines also had a chin-up bar set up that challenged mud run participants to maintain a chin-up for 70 seconds to win a prize. (I passed on that one, and doubled up on the beer.)

Proceeds from all Gladiator Rock'N Run events go to TACA, which stands for Talk About Curing Autism.
Gladiator Rock'N Run Training

Due to some time constraints and family visiting from out of town, I had just nine training days in the two weeks between the Warrior Dash and the Gladiator Rock'N Run. On those days, I alternated between the following workouts:

Workout 1: Any Month 2 Insanity DVD that wasn't a recovery workout, 60 minutes of yoga, 2.5- to 3-mile walk.
Workout 2: Upper-body weightlifting session, 60 minutes of yoga, 2.5- to 3-mile walk
Workout 3: Lower-body weightlifting session, 60 minutes of yoga, 2.5- to 3-mile walk

My last weightlifting workout was a quick full-body series using a 20-pound kettlebell. I plan to replace free weights with kettlebell workouts to get ready for my next event in mid-May.
How Was the Mud Race?

Like last race, we opted for the earliest heat possible, 8:30. The weather was atrocious for San Diego standards, with temperatures between 40 and 50 degrees, sporadic rain, sparse sun and freezing-cold wind. Due to the wet conditions and available space, most of us parked at the nearby speedway and took buses into the muddy race site.

And the race itself? How do I put this lightly… The Gladiator Rock'N Run mud run made the Warrior Dash seem like a cake walk. Technically, both courses were 5K, but this race was about 75 percent mud, and 60 percent uphill. One particularly harsh portion towards the end featured a series of steep hills covered in deep mud, which made each step in the ascent a challenge and each step in the descent an exercise in stability while sliding. http://www.c2forum.com/viewforum.php?f=9

(C) Diana Weishar
Inspired by the colorful costumes we saw at the Warrior Dash, we opted for more whimsical race attire: vibrant running shorts and knee-high socks. I cut the tips off my socks to accommodate my Vibram FiveFingers, and we both wore performance shorts underneath our running shorts. I was tempted to wear my long-sleeved Under Armour ColdGear top, but D brought up a good point: once those tops get wet and muddy, they take far longer to dry than bare skin. In conditions such as these, I didn't want to take any chances, and ditched the sleeves.

Like the Warrior Dash, there was just one obstacle towards the end that I was unable to complete: ascending and climbing over a steep angled wooden fence with a knotted rope. I gave it three valiant efforts, and even got a little help from a well-meaning fellow racer, but ultimately fell prey to mental and physical fatigue.

A moment that made me proud took place earlier in the race, when we had to climb into and then out of three super-sized Dumpsters for an obstacle called Dumpster Dive. A uniformed Marine was stationed in each one to give racers a boost. After clearing the first two without an issue, on the third, I lost my grip after hoisting myself up and slipped back into the Dumpster. The Marine asked me if I needed a boost, and I said, "Let me try one more time." I composed myself, jumped up and successfully cleared the obstacle. Huzzah!
Overall Impressions

As I mentioned last week, I've definitely been bitten by the obstacle race/mud run bug. The challenging conditions and ramped-up obstacles at the Gladiator Rock'N Run fueled this intensity even further.

(C) Diana Weishar
While I'm mock-pouting in the photo on the right, I not-so-secretly reveled in the bruises, bumps, scrapes and cuts I sustained from the mud run all week long — during my softball days, these were visible signs that we'd played hard.

Each event gives me new insight into strength-training deficiencies I need to address. For example, during the Warrior Dash I had trouble pulling myself up onto a raised platform. After focusing more intensely on my lats, shoulders and back for a couple of weeks, I noticed considerable strength gains in Gladiator Rock'N Run obstacles that required me to hoist myself up. http://muskelpower.de/forum/post257278.html#p257278

For this month, I'm focusing on improving my hill endurance and grip strength — not only to prepare for my next event, the 5K ROC Race on May 19, but to build towards June's obstacle race, which is a 10K with obstacles.