Steel Kittens Wrestling

| SKWrestling
Super Vixens, Wild Wrestling Women, Mixed Fights! #wrestlingwomen #mixedfights #supervixens #wrestlingvideos
http://p0.vresp.com/B747u9

7 days ago
Girl Next Door with Love for Sleeper Holds!
May 3rd 2014 at 2:26 PM
Hello Steel Kittens Fan!
We have some action packed female wrestling videos picked out for you this weekend!
Be sure to check out our membership and all it's benefits
here
, there is a free tour!
Mixed Wrestling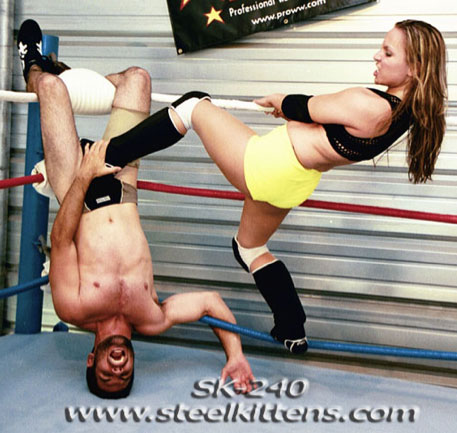 Belle vs. Travis and Valentina vs. Gravel
Belle meets a male opponent in a mixed wrestling match. You'll see that she enjoys devastating him with her knowledge of different wrestling holds, domianation and submission holds which finally end his day with a brutal sleeper hold. Valentina, with a girl next door look, really fools you. She's actually from the streets and picked up a lot of kick boxing, which she shows off on Gravel in their coed wrestling bout.
Click here
to watch these mixed wrestling matches now.
More Mixed Wrestling Videos:
Female Wrestling
Tasha vs. Santana
It's the best of five back breaking, wrestling submissions in the ring for Santana and blonde Tasha. The pantyhose clad combatants rock the mat with frightening back bending holds and howling "I Gives". Tight sexy bodies receive brutal punishment in agonizing submission holds!
Click here
to watch this female wrestling fantasy match now.
More Women's Wrestling Videos:
Raquel D vs. Afrika and Ariel vs. Jade Both women dish out the pain in this tight and furiously competitive wrestling match! Watch here now.
Sierra vs. Ariel Sierra finds it hard to pin down Ariel, her training is paying off, but Ariel finds the shear strength of Sierra's topless beautiful body over whelming. Watch here now.
Pro Style Wrestling
Frankie vs. Afrika
Afrika, a big and powerful bodybuilder, is challenged by Frankie, a stunning beauty who, is fit, confident and ready for battle. Frankie fights with all her might against the mighty "Queen of Pain," Afrika takes no prisoners and enjoys dishing out the pain on her challengers. The beautiful Frankie is in for the beating of her life.
Click here
to watch this pro-style wrestling match now.
More Pro Style Videos:
Riptide vs. Sue Sexton The ring echoes with pounding falls as Sue and Riptide collide, mauling and mangling their way to a surprising ending! Watch here now.
Amateur Female Wrestling
Jackie vs. Angelica and Eden vs. Darling
Steel Kittens brings to you the hottest and brightest stars of topless amateur female wrestling! These sexy girls are pure amateurs, completely new to the sport of wrestling. But their feistiness is a sight to behold! Red haired beauty Jackie and black haired temptress Angelica fight to exhaustion leaving one sexy topless maiden surrendered on the ring floor. Two sexy dynamite topless blondes, Eden and Darling battle it out in great amateur action till one is worn out unable to escape the grasps of the other fair maiden.
Click here
to watch this t*pless amateur female wrestling match now.