Groups
Robertnavy is not in any groups
Interests
cooking
Vivienne Westwood turns catwalk into protest march
Sep 21st 2015 at 7:24 PM
British designer Vivienne Westwood has transformed the catwalk into a protest march at London Fashion Week, blending style with politics and sharp tailoring with anti-austerity placards.
The long-time rebel and activist, 74, held the launch of her spring-summer 2016 runway show for her Red Line collection in the basement of the University of Westminster.
As fashion writers and celebrities took their seats, the lights went down and the sound of a siren announced the show had begun.
A group of people took to the floodlit catwalk holding placards reading "Climate Revolution", "Austerity is a Crime" and "Fracking is a Crime", referring to the controversial method of extracting shale gas.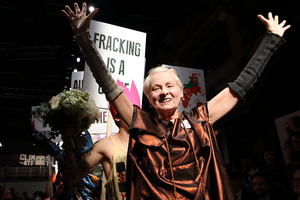 Image: tea length wedding dresses
"It's incredibly important ... to be political because we face incredible danger from our politicians and we've got to stop them!" Westwood wrote in a letter given to each guest.
"They cause climate change and war ... they're taking us to mass extinction and we have to do something." Westwood seemed to have in her sights the Conservative Prime Minister David Cameron, an enthusiastic backer of fracking.
Just last week, Westwood rode an armoured vehicle to Cameron's home in protest at the policy.Dressed colourfully in leggings, shorts, red lipstick and brightly-coloured crowns, Westwood's protesters brandished their placards outside the fashion show venue before she later led them onto the catwalk.
Her collection seemed inspired by activists. Models wore draped and ruched clothing with a vintage, mish-mash feel, many with badges pinned on their lapels and their faces daubed with black paint.
The collection mixed feminine dresses with sculpted silhouettes and asymmetric trouser suits, a playful approach to contrast echoed in an earlier show by Georgian designer David Koma.
Also Read: http://www.sheinbridaldress.co.uk/sexy-wedding-dresses