Groups
anny23 is not in any groups
Interests
wedding and wedding dress
The classic match of wedding colors: blue + yellow
Dec 10th 2015 at 5:08 AM
Blue bridesmaid dress with a yellow bouquet is the  popular classic color of wedding. Blue bridesmaid dress look elegant,formal,and very wild.And at the same time,it will not too grab the limelight of wedding;With the yellow bouquet, it will immediately infuse enthusiasm for this dress .
Bridesmaids dressed in blue-black bridesmaid dresses, holding a yellow peony,is very concise and elegant.
Bridesmaid bouquet is made of yellow sunflower,And it brings sunshine vitality to blue-black bridesmaid dresses! This color is very suitable for recording video!
There are some green in sunflowers of the holding flowers.It is very suitable for sunny outdoor wedding!
This is a mixed bouquet of bridesmaid with orange, yellow and white, the orchids, dahlias and white flowers buttercups components.Nice colors are full of progressive sense.With it, the blue dress is a kind of elegance sunlight.
This bundle bridesmaid bouquet is made of daisy, Leucanthemum Paludosum, tulips and freesia components.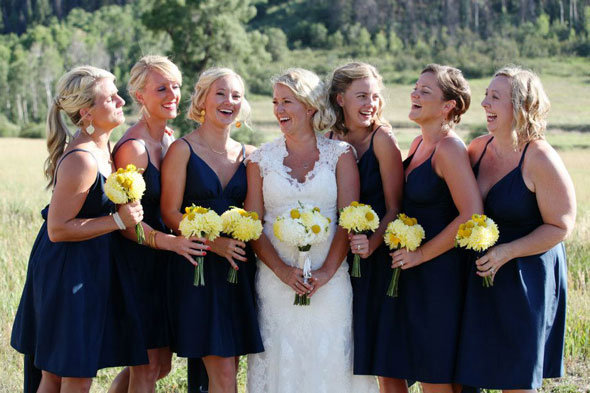 The blue-black bridesmaid dress with a bright yellow bouquet, we can almost feel the fresh flowers in the sunshine!
Yellow, light yellow, ivory and white colorful flowers also make the navy bridesmaids dresses full of vitality.