Groups
Robertnavy is not in any groups
Interests
cooking
Models redefining beauty
Aug 14th 2015 at 12:16 AM
For an industry that is so traditionally gendered by the divisions between menswear and womenswear, fashion has been one of the leading commercial and creative arenas to embrace gender fluidity - from designers like Gucci, Rick Owens and J. W. Anderson presenting gender fluid collections, to magazines increasingly blurring the lines with editorial content.
Consumers are lending their purchasing power to the desirability of a collection regardless of its intended audience; dressing across gender lines is now more and more the norm, barely warranting a bat of the eye. Good design transcends gender, as do models; there's a cluster of models leading the charge, from transgender women fronting major campaigns, to female models succeeding in the menswear sphere. Their success and the acceptance and the celebration of it, is something we should (and will) see increasingly more of.
Hari Nef
Model, actress and activist (not to mention social media star) and the first transwoman to be signed to IMG worldwide, Nef champions openness, and her modelling road has followed her personal journey of "creating, re-creating, meta-creating" herself; she believes in "listening to people, not labels, not semantics." Nef favours a more ambiguous approach to beauty, preferring subtle femininity and a bare face rather than subscribing to a more traditional view of female appearance - something women collectively seem to be rejecting. With bone structure that could cut glass, and her signature heavy fringe, she has walked the runway for Hood By Air and Adam Selman, and fronted campaigns for the likes of Selfridges.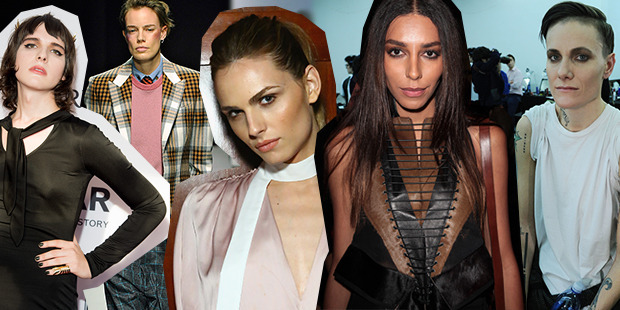 Juliana Huxtable
Multifaceted artist, DJ and model Juliana Huxtable is leading the discourse on femininity and gender, blurring the boundaries of both in the arenas of art and fashion, and has been profiled by the likes of Vogue, Dazed and i-D. With a fiercely individual sense of style, Huxtable is a frequent fixture in both fashion events and LGBT activism; her photographic work in particular explores her own body as its main subject, and she has modelled for notable brands like DKNY. She chose her surname of Huxtable as a spin on The Cosby Show and contradictions between "the fantasies of black aristocracy" and the realities of the contemporary economy. Huxtable uses her work and large social media presence to champion visibility and diversity, exploring how our sense of self sits in an increasingly digital world; she was one of the youngest artists at the recent prestigious New Museum Triennial in New York City.
Casey Legler
Artist, activist and model, Legler made history as the first female to sign exclusively on to Ford Models' mens books. A former Olympic swimmer, she predominantly models for menswear labels, and has appeared in Vogue and i-D. At the age of 38, she has only just shot her first womenswear campaign ever; Be You, the latest campaign from Jodhi Mears's activewear brand The Upside, that explores the broad definitions of femininity and celebrates the conversation of diversity and acceptance.
Lea T
The Brazilian beauty is the first openly transgender woman to be the face of a global cosmetics brand, with a contract with industry heavyweight Redken. She rose to fame as a face of fashion house Givenchy and muse to its designer Ricardo Tisci (who has seemingly moved on to an obsession with the Kardashian brood). Born Leandro, she began at the house as an assistant before graduating to fit model and then campaign star. She has graced the pages of Vogue and Interview, and was a prominent cover star for Love Magazine in which she was pictured mid-kiss with iconic supermodel Kate Moss.
Andreja Pejic
Serbian born Pejic came to the public eye after being discovered in a McDonald's in Melbourne, whilst still going by the name Andrej, and went on to groundbreakingly walk the runway in major womenswear shows like Marc Jacobs and Jean Paul Gaultier. Dismissing such warnings that transitioning might threaten her career like "You're not going to be interesting anymore. There are loads of pretty girls out there", Pejic was publically open about the process, giving interviews and filming a documentary about her journey. Her former agent at DNA believes she "opened a lot of eyes and made people see things from a new perspective. We're going to see her influence for years to come."
Elliot Sailors
Standing at a striking six foot two, the former beauty queen had a successful career in womenswear being shot by heavyweights like Ellen von Unwerth and Bruce Weber, but decided to chop off her long, blonde hair to work as a male model after being inspired by (the then) Andrej Pejic's success with gender diverse modelling. Seeing menswear as a way to extend her career, her decision reflects on the relatively short lifespan of a female models career, with male models traditionally having a far longer expiry date. Sailors sees her move as "adding another voice to the narrative" around fashion, identity and gender.